Yellowstone Park lodging is located all around the main entrances of Yellowstone National Park. When planning your trip, you may want to decide which area of the park appeals to you the most and find lodging at the closest entrance. Yellowstone National Park is captivating in its entirety, and each section has something special and unique to offer visitors.
The north is the only section of Yellowstone open to vehicles all year, and the rest of the entrance roads are closed (except to over-snow travelers) in the winter. If you decide to enter Yellowstone from the North Entrance you'll go through the town of Gardiner in southwest Montana. There you will find convenient hotel accommodations. The Yellowstone River runs right through the middle of this small community. Gardiner has a small airport as well as restaurants, shops, and art galleries.
The Mammoth Hot Springs are a very popular tourist attraction at Yellowstone National Park. These limestone terraces are at the north end of the park. Visitors enjoy exploring the vividly colorful Palette Spring and Minerva Terrace on the lower end of Mammoth. The upper terrace loop provides an overlook of the area at the main terrace, the bright yellow Canary Spring, an elephant-shaped spring at White Elephant Back Terrace, and Angel Terrace. Mammoth Hot Springs has been a main feature during every season at the park for generations.
The West Entrance has an abundance of Yellowstone Park lodging. The west end of the park has the majority of its geothermal features. This includes the Upper Geyser Basin with world-famous Old Faithful. The Lower Geyser Basin is also close to the West Entrance of the park. Below it is Midway Geyser Basin with the rainbow-like Grand Prismatic Spring, which is the largest hot spring in the world. It measures 370 feet in diameter and is surrounded by wooden terraces where visitors can stand and view it.
This area also has the Excelsior Geyser. It was once the largest geyser in the world, but is now an enormous thermal spring, producing thousands of gallons of boiling water below a steam-covered crater. Also in this area are Turquoise and Indigo Springs, named appropriately after their striking colors. There are many impressive waterfalls including Gibbon Falls, which is a popular roadside attraction. Nearby is Firehole Falls and Cascades of the Firehole. There is easy driving access to these falls. The nearby Firehole River is a turnoff off Firehole Lake Drive, 8 miles north of Old Faithful.
West Yellowstone, Montana is a very popular gateway to Yellowstone and has many options for Yellowstone Park lodging. This town offers a lot of outdoor recreation including fishing and abundant hiking trails. There are also many places to dine. In-town eateries are within walking distance of many other main attractions. Lounges and bars are located throughout the town for late-night entertainment. Visitors have the option to enter through the West Entrance in the winter, but only by over-snow vehicles such as snowmobiles or via private or group snowcoach rides.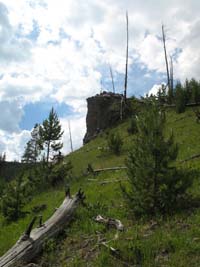 East Yellowstone is near the Shoshone National Forest, where the Shoshone River flows out toward Yellowstone National Park. There are towns around the East Entrance with Yellowstone Park lodging. Cody, Wyoming was named after Wyoming's historic "Buffalo Bill Cody." The town is 53 miles west of the East Entrance to Yellowstone National Park. This area has Sylvan Pass which descends down to Yellowstone Lake. Big Sky, Montana is also outside the East Entrance of Yellowstone. It offers fun tourist activities and is known for its skiing at Big Sky Resort in the picturesque Montana mountains. Moran, Wyoming is another tourist town east of Yellowstone outside Grand Teton National Park. This area offers fun whitewater rafting trips down the gorgeous Snake River. The East Entrance of Yellowstone National Park is accessible in the winter, but only with over-snow vehicles.
The South Entrance of Yellowstone National Park is right between Yellowstone and Grand Teton National Parks. The Snake River flows through this area, offering exciting river adventures. There are also many beautiful drives through Grand Teton including the Jenny Lake Scenic Drive, Signal Mountain Summit Road, and Teton Park Road, which all have breathtaking mountain views. Mountain biking and horseback riding are popular at the south end of Yellowstone. This is an excellent area for mountain climbing as well, with magnificent mountain peaks within reach. Cascade Canyon and Death Canyon are popular climbs. The high Teewinot Mountain peak above Jenny Lake also provides must-see panoramic views of the region. There is a lot to do in this area in the winter as well including ski (cross-country and downhill,) snowmobile, and snowshoe on Yellowstone or Grand Teton's winding wilderness trails.
Wherever you decide to be your starting point, there is quality Yellowstone Park lodging to assist you with all your traveling needs. Here is a list of outstanding places to stay near the North, West, East, and South Entrances of Yellowstone National Park.
North Entrance
Best Western Mammoth Hot Springs
West Entrance
East Entrance
South Entrance
Headwaters Lodge at Flagg Ranch For more information and to make lodging reservations at Yellowstone log on to: www.nationalparkreservations.com or call toll free at: 855.866.1913.